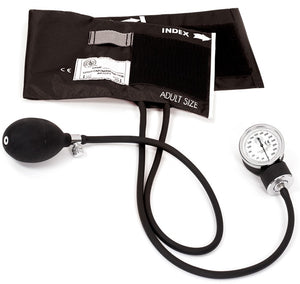 The Premium Adult Aneroid Sphygmomanometer (Model S82) is Prestige Medical's most popular adult size sphygmomanometer and it's easy to see why. This sphygmomanometer is designed to provide superior accuracy when measuring blood pressure. It comes in a larger variety of cuff colors and fashion prints.
Adult size sphygmomanometer
Durable latex-free nylon cuff
10" - 16" cuff range
Index and Range markings
Artery indicator mark
Heavy duty vulcanized bladder
Precision calibrated manometer gauge
Gauge holder
Standard inflation bulb with air release valve
Owner ID label
Lifetime Calibration Warranty
A portion of the proceeds from the sale of the Hope Pink Ribbons print will be donated to the American Cancer Society for breast cancer research
Adult cuff fits a patient arm circumference of 10" to 16".